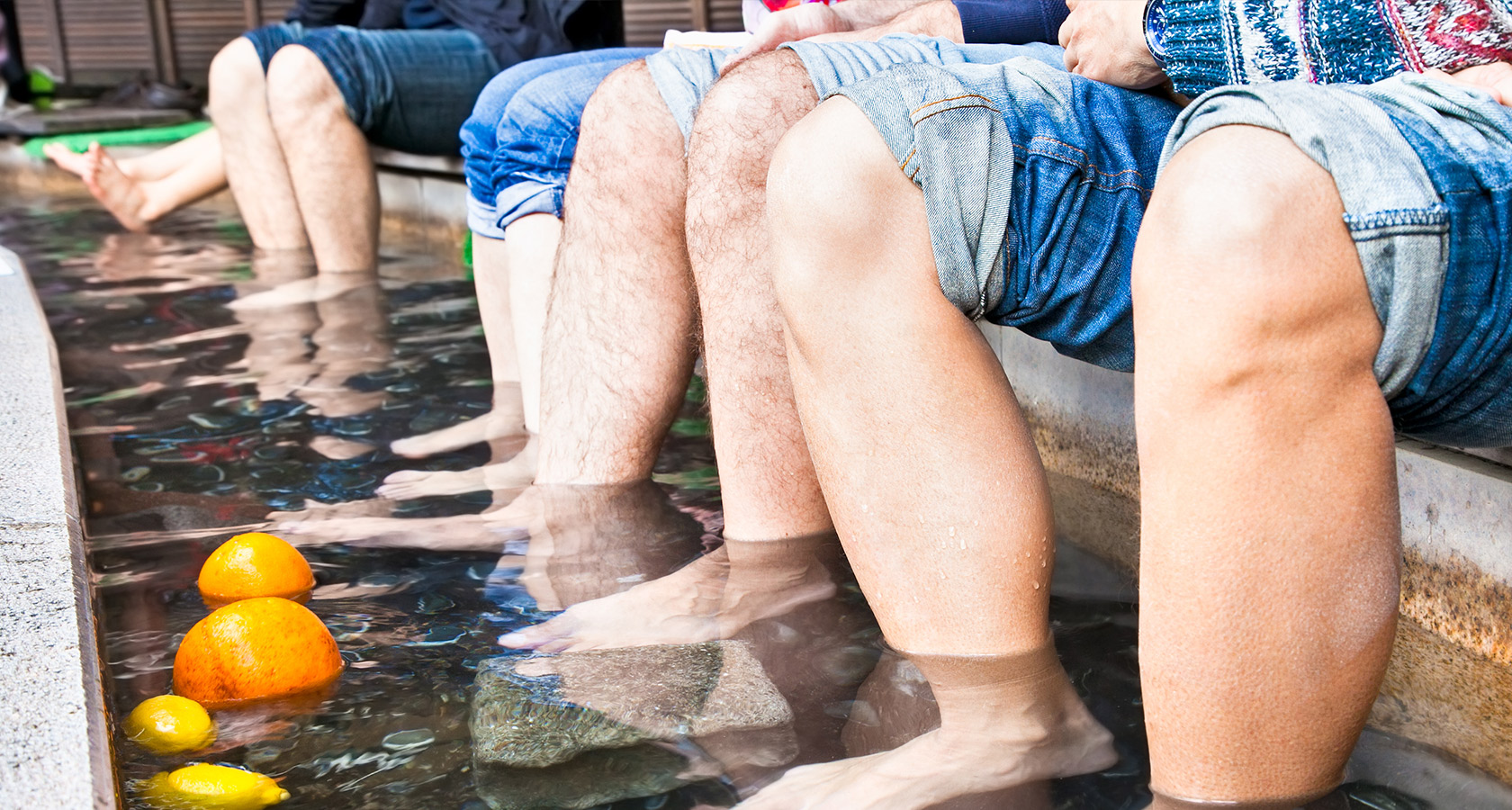 If you ever are lucky enough to find yourself in Japan, there are some traditions that you simply must not miss. Top of the list for many will probably be taking a dip in a natural hot spring or onsen.
Onsen are public baths filled with natural, hot spring water and are often large spa-like resorts with not baths, steam rooms, saunas and even massages. But onsen come in many shapes and sizes, and no matter what you are looking for, there should be a bath to meet your needs.
Your standard fare
Most onsen will be large complexes split into a male and female section. After paying, you will go to your respective changing rooms, with a blue curtain representing the male changing rooms and a red one over the females. Most onsen will have a row of showers, an indoor and outdoor bathing area, and possibly a steam room or two. The male and female area never mix and the only communal areas will be juice bars or massage parlours located in the entrance area. So, if you go with your spouse or partner, don't expect to see them until after you've bathed.
---
Private baths
Many ryokan or traditional Japanese Inns have small onsen facilities, and guests can often book these so families can bath together. You will have an allocated time to enjoy the onsen, and while it may be much smaller and less luxurious than the regular bathhouses, it is very pleasant to enjoy the hot baths with your nearest and dearest. Most ryokan situates their baths for an excellent view, so no matter where you are staying, it is no doubt going to be a bath-time to remember.
---
Foot Spas
If disrobing to enjoy onsen seems a little daunting, foot spa onsen are extremely common and can be found in locations nationwide. Guests remove their socks and shoes, quickly rinse their feet and then sit on a bench while soaking their feet in the soothing hot waters. This is ideal for couples that don't want to be separated for the entire day, as there are no gender restrictions. Some locations also offer drinks and even small snacks, so you can happily soak for hours on end.
---
Historic Spots
Onsen is so deeply rooted in Japanese culture that no one truly knows when it began, so there are no shortage of historic spots. Yunomine Onsen found in the Wakayama's Kii Mountain Range, for example, has an ancient shrine that houses a small wooden shack known as the Tsuboyu. Inside, piping hot spring water is mixed with cool river water; their guests can enjoy a bath in the same hollow that has been graced by various emperors over the centuries. The spring water is so fresh that the colour of the bath may vary from one day to the next depending on what minerals is in the water at the moment. It is said to be Japan's oldest spa and recently joined the World Heritage List.
---
Monkey Baths
Although you may not be able to enjoy the hot springs for yourself, taking a trip to Nagano's Jigokudani Yaen-Koen will no doubt be a day to remember. Here you can see the iconic red-faced Japanese monkeys leisurely enjoying a hot bath during the cold winter months. However, while the monkeys may find it pleasant and relaxing, it is a highly popular tourist spot, so you might be jostling for the best spot to snap a picture. Still, it is still a trip you will think of fondly for a long time to come.